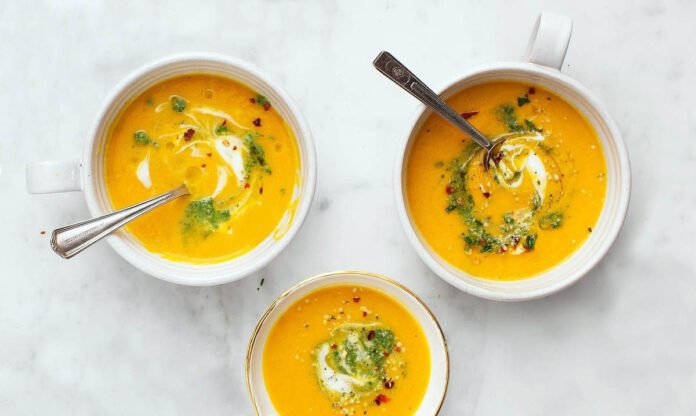 Weight Loss Soup Recipes
Soup is an essential dish that you can include in every meal. With our weight loss soup recipes, you will get fit in no time.
A warm bowl of soup can hit the spot on a cold day, although there are some soups that can be chilled and then consumed as refreshing, energy-boosting dishes. It is a very healthy way to start off a meal because soups are always rich in veggies, make you feel full, and are low in energy density.
Homemade soup is always the right choice referred to as canned soup because canned soup may often contain a chemical called BPA (Bisphenol A) and is high in sodium. Just like salad, having a bowl of soup is a huge asset for a healthy body, as it is responsible for a lot of benefits for you due to the increased consumption of veggies filled with a big amount of nutrients.
The most important health benefits come from the gelatin contained in the stock. Gelatin holds very unique values considering it supplies hydrophilic, or water-loving, colloids to the diet. It attracts digestive juices for rapid and effective digestion.
In addition, we suggest the 3 nutrient richest super soups that you simply must try.
#1 Pumpkin Weight Loss Soup
1 tablespoon olive oil
2 cups chopped onion
2 teaspoons whole wheat
4 cups veggie broth
3 cups mashed pumpkin
½ teaspoon minced garlic
½ can black beans
A half teaspoon of ground cumin
¼ teaspoon salt
¼ teaspoon ground white pepper
1 minced nutmeg
Preparation:
Pan-stir the onion in olive oil.
Add the wheat and stir for two minutes. Add the broth, spice it up, and add the mashed pumpkin, garlic, cumin, salt, and pepper. After the soup boils, leave it for 15 minutes more. Add the black peas and cook for 15 minutes more.
#2 Tomato and Watermelon Gazpacho
¼ seedless watermelon (chopped in slices)
2-3 big tomatoes (chopped in slices)
1 cucumber (chopped in slices)
¼ bunch of parsley (finely chopped)
¼ bunch of coriander (finely chopped)
½ hot pepper
17 oz tomato juice
1.5 tablespoon vinegar
Half of the green lime juice
½ teaspoon mustard
½ avocado (by choice)
Salt and pepper
Preparation:
Mix the chopped ingredients in a big bowl. Add the liquids and spice it up with salt and pepper. Leave the mix to marinate for a couple of hours, and then insert the mixing in your blender. Blend it till you get the desired density. Leave the gazpacho in your fridge to chill nicely and you're ready to serve!
#3 Ginger, peas, and brown rice soup
2 cups of frozen peas
1.5 cup veggie broth
1 tablespoon chopped spring onion
1.5 teaspoon ginger (finely chopped)
10 leaves basil (finely chopped)
½ cup cooked brown rice
Preparation:
Put the frozen peas and the broth in a bowl and cook it until it boils. Boil for 10 more minutes.
Put all the ingredients except the brown rice. Heat it up for only a minute, and then remove it from the stove.
Leave the mixture to cool and then blend it. Blend until desired density. Add the brown rice to the mixture and voila, you have the healthiest, nutrient-rich, not fattening dish ready in no time!
Weight Loss Soup Recipes
* Note: Never put hot ingredients or mixture into your blender!