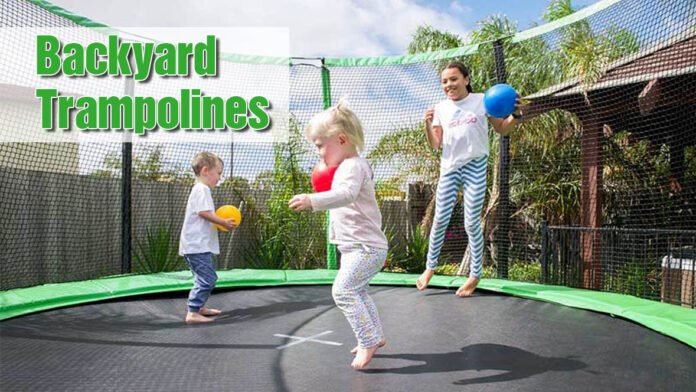 Purchase the best trampoline for your money
A trampoline is a fun object for all ages, and it can be used for a variety of purposes. Some people use them for regular exercise, while others use them for the fun of jumping. They can even have medical purposes such as for use in physical therapy.
There are many types of trampolines available, so it is wise to consider your options prior to purchase. Size, shape, bounce, and safety are four features to think about.
Different Sizes of Trampoline
Small trampolines are for aerobic exercise, physical therapy, and there are for children to use. These trampolines are often indoors.
Medium trampolines are backyard versions, usually for older kids, but plenty of adults enjoy them.
Large trampolines are generally in use for sporting events or recreational activities. They are the most expensive, have the greatest weight limits, and they provide the most bounce.
Shapes of Trampoline
Round trampolines are the most commonly purchased for backyard use. The springs are smaller, so they are relatively safer, and they are the least expensive. Companies such as Bagoong trampolines offer a large selection of this type.
Rectangular trampolines are more expensive than round, but they have a larger jumping surface. Families with children in gymnastics often purchase rectangular versions for a longer area to practice. There is a higher weight limit, and people considering trampoline use for multiple people may want a rectangular trampoline.
Octagon-shaped trampolines are similar to round except they allow for higher and more-controlled jumping. They can be easier to secure and enclose, as the user is working with a flat surface.
Bounce
Bounce is determined by the number and the length of the springs on a trampoline, although there are also elastic band options. Dual-tapered springs are stronger than straight springs.
Safety
There are numerous safety features for consideration. Padding over the springs should be of quality material and heavy versus light foam construction. Enclosures can ensure that nobody falls from the trampoline to the ground. There are even ladders to help little ones safely get on and off the trampoline. Lastly, maintenance is a consideration, as trampolines can tear, and springs can break. They are meant to be fun, and safety is the key to long-lasting fun.
Online Buyer's Top Pick:
Jumpsport StagedBounce 10'x17′ Rectangle Trampoline
This Jumpsport StagedBounce 10'x17' Rectangle trampoline is just right when space is at a premium. Rectangle trampolines need less space than the typical round trampoline. As with all of the trampolines I have reviewed, it comes with a safety enclosure. It also comes with 108 high-performance springs, a blue, high density, trampoline pad and a 12 gauge frame. The safety enclosure has two back up support systems making it the best safe trampoline option.
There are no zippers to worry about breaking on this trampoline net, it has an overlapping design so your child can slip in. This safety extra means that there are no holes in the net. The safety poles come with vinyl sleeves. Its mat is from industry-leading Permatron® jumping fabric and is 40 inches from the ground for better trampoline clearance. The bed has 10 rows of stitching and a UV shield. The Spring/Frame pad is in blue, 17″ wide and 1″ thick. The Jumpsport StageBounce Trampoline is rated for a max 225 lb jumper.
FEATURES:
Top of the line safety net with no zippers to break and no holes when doors are left open
Great Bounce
40″ clearance for jumping
Very High Quality
Conclusion
Consider your options and read reviews when deciding to purchase a trampoline. The money spent will be put to great use if you pay attention to the features. Make sure the type you pick is best for your family, and most importantly, make sure you use it. Jumping is fun!