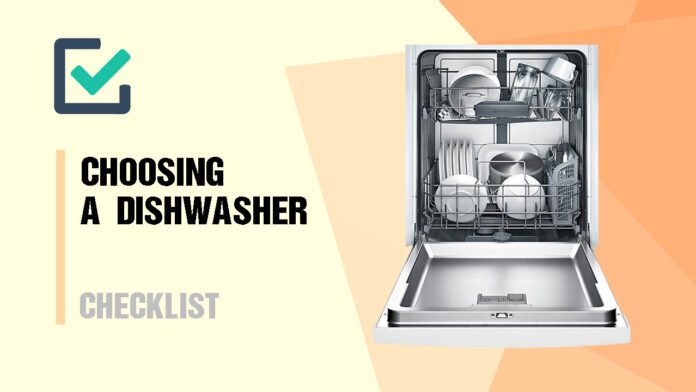 Checklist for Choosing a Dishwasher

Choosing a dishwasher can be a tough decision. We've developed a checklist to help you make the best possible selection. Using a dishwasher instead of handwashing is usually an easy decision to make. After all, they are a wonderful time-saver. All you have to do is fill them up with your dirty dishes, add a little detergent, close the door and let the magic happen. Clean sparkling dishes!
The tougher decision is choosing the dishwasher that best suits you, your family and your home. This is a machine that you will be living with for quite some time, and most likely using every day. Typically, a dishwasher lasts anywhere from six to twelve years. These complex appliances can also be quite costly, so it is important to choose wisely.
Choosing a Dishwasher That is Right for You
Questions to ask yourself when choosing a dishwasher:
What size and type of dishwasher do you need?
Size is the first thing to consider when choosing a dishwasher. Carefully measure the existing space in your kitchen. In some cases, you may need to do a little minor remodeling in order to make room for a new dishwasher. This will help to narrow down the possible choices from the selection of various dishwasher types available. The choice of a built-in, drawer, countertop or portable model depends on your budget and needs, but also whether you own or rent your home.
How big is your budget?
Before rushing into comparing models, take the time to determine the size of your budget. More features usually mean a higher price tag. Cheap dishwashers usually have fewer cycles, and more basic racks and baskets. You won't get special features such as high heat drying, delay start and sanitizing. You have to determine if the benefit you get from additional features outweighs the impact on your budget. Visit our Guide to Dishwasher Prices to understand more about what you can get for your money. Keep in mind, also, that unless you are investing in a top of the line model, choosing a dishwasher with more features may also mean an increase in electricity and water consumption.
What style of dishwasher do you need?
If your budget is limited, your style options may be limited, too. Standard appliance finishes are white, black or stainless steel. If you've got a little more cash to splash, then integrated models (with hidden controls and front panels matching your kitchen) and a much wider range of color and style choices are available.
What capacity do you require?
Capacity is measured in terms of the number of place settings that a dishwasher will hold comfortably. Small washers will generally hold about eight place settings, while the larger models will hold up to sixteen place settings. For a small household with one or two people, or when space is an issue, a compact one with room for around six place settings may be enough. When considering your capacity needs, you should also think about any oversized or odd-shaped items that you wash frequently. Flexible racks and basket options can mean you get better use of the capacity that you have.
How do you plan to use your new dishwasher?
Will you be using it frequently? Do you wash a lot of crystal or china? Are your dished often heavily soiled? Do you want to avoid washing during peak energy times with delay start? These are all questions that you need to explore when you are deciding on the features that you need to accommodate your household needs. It's important to consider the dishwasher cycle and drying options. As well as other hidden aspects of electric dishwashers like food disposal grinders and self-cleaning filters.
When do you plan to use your dishwasher?
If you plan to use your dishwasher in peak electricity price periods, you should look for energy-efficient options. You may also want to choose a model with a delayed start so you have the option to wash the load at a more convenient time of day. If your dishwasher is located in an area where your family sits down to eat, watches television, etc. the noise level may be a factor. If this is the case, look for quiet dishwashers that offer a noise package or other options for premium noise control.