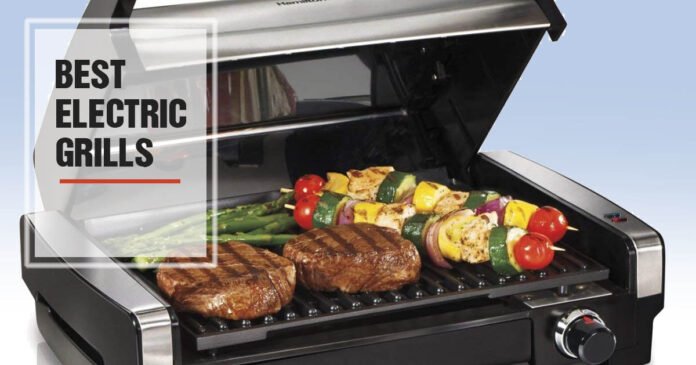 Electric Grills for Outdoor Cooking
Having a social gathering outdoors during the warmer months is becoming very popular. It is one of the things people most like about spring and summer. Being able to get together for something to eat and drink in pleasant weather can be enjoyable and relaxing. For so long, the only way to cook outdoors was to get your charcoal grill ready and wait until the coals are lit properly before cook the food. Well, a great new alternative has arrived and that is the products known as outdoor electric grills.
You are no longer restricted to the hassle of a charcoal grill or the expense of a gas grill. Outdoor electric grills are becoming the most popular choice nowadays for outdoor cooking as it is an efficient, healthy and safe way of cooking your food outside. Using an electric grill outdoors couldn't be simpler. It will offer even distribution of heat, unlike a charcoal grill which can sometimes leave food cooked outside but raw inside. It will heat up instantly and you can cook straight away.
Outdoor Electric Grills – Alternatives of Charcoal and Gas Grills
There are many different types of outdoor electric grills to choose from. Some come with a grate above the heating element while others have a drip tray underneath the grill which will catch the juices and fat which runs off the meat during cooking. Some grills have slanted plates to let the juices run off into a drip tray. Depending on the size and style of grill you need, the cost will vary. There are grills available to suit any budget. Some are very expensive and come with various features and gadgets while others are quite inexpensive and can cater to just a small number of people. Some of these electric grills are even small enough to cater to those living in apartments.
An electric outdoor grill is one of the healthiest ways of cooking outdoors. The grills which allow the fat from the meat to drip away offer some of the best ways of cooking. Having the convenience of being able to just plug the grill into the electricity socket means that you will have an instant cooking area, without having to wait for the flames to die down. Plus these grills are very easy to clean and some come with detachable plates that can be placed in the dishwasher. You will not have to wait until the fire goes out completely and the ashes have cooled down before cleaning your grill.
So if you want an energy-efficient, convenient and healthy way of cooking outdoors, then outdoor electric grills are a perfect choice every time.
Grill Food is Better on Outdoor Electric Grills
Grilled food is not only healthy and delicious but also gives a reason to hang out with friends and families every weekend. The best places to enjoy
grilled food with your near and dear ones include backyards, gardens, and parks so that you can really enjoy yourselves and forget all your tensions.
You, of course, use grills to grill food. However, conventional grills are not the best choice today because of the dangers associated with gas and charcoal grills. A better option is something completely different and modern, the outdoor electric grill.
The reason for the increased popularity in these grills is the risks associated with traditional grills. Burning charcoal in charcoal grills proves to be messy. Though it provides heat, it also gives lots of dust, soot and ash, which can be tiring to clean after cooking.
As gas is very combustible and can lead to explosions that may hurt or kill surrounding people, gas grills can be very dangerous. Besides these dangers, both of these grills emit lots of harmful emissions that can be dangerous to the environment.
It is because of all this that a new, better and healthier form of grilling was devised with the outdoor electric grill. It is because of this grill that you can still continue having your weekend grill parties, without the risks and health hazards posed by traditional grills.
How to use outdoor electric grills?
These outdoor electronic grills are convenient to use, easy to use, risk-free, lightweight, portable and of course, easy to clean. These grills are available in various sizes, making it convenient for you to choose depending on what you intend to cook, and its quantity.
By using outdoor electric grills, you can grill your food without the use of any charcoal and gas. All you have to do to use the grill is to plug it in any outlet, and you can start using it. With the use of outdoor electronic grills, there are no mess, danger or environmental hazards you have to worry about while enjoying your food.
With lessened cleaning work, you can enjoy yourself more with your friends and family. All you have to do is to plug in your outdoor electric grill and wait for about ten minutes within which its surface is hot enough to grill your food. These grills also come with a heat adjuster that you can use to adjust its heat to only keeping food warm, and even to use for cooking steaks.
Meco 9325 Deluxe Electric Cart Grill
When it comes to outdoor electric grills, the Meco 9325 Deluxe Electric Cart Grill is a fun and simple to use a grill that is both durable and stylish. It has 200 sq/in of cooking area and features a variable 1670 watt heating element that has been specifically designed for barbeque style cooking, and it also has thermostatic controls. Different grilling requirements are available by the three-element positions, which include a vertical position for cooking rotisserie style. The other element positions also accommodate different grilling requirements. There is also a viewing window that allows you to safely monitor the food as it's cooking.
As a handy addition, there are two foldable trays from wood on either side. Which are ideal for holding condiments, sauces and various cooking utensils. Underneath there is a wire leg shelf that offers extra storage space for when grilling. There are other handy extras that come with the grill. Including a hood and bowl that has been preassembled, a greased pan and a reflector pan that saves heat.
Product Features
Electric grill featuring three-element positions
Includes a vertical position for indirect rotisserie grilling/cooking
200 sq/in cooking surface
Viewing window
Two foldable wood side trays and a wire leg shelf
Thermostatic controls; variable 1670-watt, UL-listed heating element designed for barbecuing
Pre-assembled hood and bowl
Heat-saving reflector pan
Grease pan
Standard 120-volt grounded plug
Measures 26.5 x 21 x 41 inches
One-year limited warranty
Review from one satisfied customer
"A few years back we moved into our condo; because of this could no longer use our gas barbecue because of the regulations. At the time I really didn't have a clue when it came to what grills were available on the market. I thought all outdoor electric grills were in the "George foreman" style. I actually purchased this grill after doing a great deal of research. But I must say that I am very pleased with it and it really is a great alternative. As well as that we don't have to ever worry about running out of charcoal or propane!
I like the fact that there are several settings which are ideal for cooking lots of different kinds of food. The grill heats up real quick and then cooks quickly as well; the food really does taste grilled. The only small issue I did have with it was the fact that there is some smoke; although I guess it adds to the authenticity of the barbecue grilling. The electric grill wasn't too difficult to assemble, and it is a good size. I really recommend this product."
Weber Q-2400 Electric Barbeque Grill
If you are looking for a great outdoor grill for your apartment or condo; then the Weber Q-2400 Electric Barbeque Grill is perfect. Many people who live in apartments find that they simply cannot use gas or charcoal; the alternative is to get an electric grill. The Weber Q-2400 Electric Barbeque Grill is a perfect size too for smaller areas as it is a tabletop grill. It has 189 square inches of cooking area; and with temperatures of up to 600 degrees, it is great for cooking your favorite foods.
Review from one satisfied customer
I have lived in an apartment for many years and absolutely love it. However, I do miss not having a patio and a back garden where I could do a barbeque. I always thought it was not possible for me to have a barbeque on the balcony of my apartment; as I couldn't have an open flame. But a friend of mine told me that there were electric outdoor grills; that could enable me to get that great barbeque taste from my balcony.
I decided to look around and check out reviews of the various different types available. The main negative in most of the reviews is that electric grills do not get hot enough to cook a steak properly. Then I came across a review which said that the Weber Q-2400 was great for cooking steaks. So I decided to bite the bullet and buy this one. And I am happy to say that the reviewer was right. This grill can reach really high temperatures which means that the steak is perfect. The grill was quick and easy to assemble too which was a bonus. Another plus is the fact that the grill is very easy to clean. The grilling surface goes in the dishwasher for cleaning. One minor down point of this grill is the cost; as it is quite expensive, but for me, it was well worth the money.
Charbroil Infrared Electric Patio Bistro
The Charbroil Infrared Electric Patio Bistro is an amazing product that is perfect for cooking outdoors. It is a superb way of cooking outdoors and even gives off the same taste as a gas grill without the need for using gas canisters. It has 320 sq inches of powerful cooking space and is perfect for cooking on your decking, patio or terrace.
This grill can maintain heats of up to 700 degrees Fahrenheit which means it packs a powerful punch. It is from heavy-duty porcelain which is rust-resistant so it is perfect for outdoor cooking. Plus it has a handy temperature gauge in the lid to ensure that food is well made.
Review from one satisfied customer
I was looking for a great outdoor electric grill as I am not a big fan of using gas. I have small children and am a bit of a worrier. So I thought an electric grill would be a better option than a gas grill or a charcoal grill. I happened upon the Charbroil Infrared Electric Patio Bistro by chance when looking up electric grills. I was originally looking for a different make but when I saw what this one had to offer, plus all the great reviews I found, I decided to buy this one instead.
Another reason I did not want a gas grill was that I am quite forgetful and highly likely to forget to buy a canister of propane when it runs out. This would be very frustrating if we decided to get the grill out only to realize that there was no propane or even worse if it were to run out halfway through cooking. Fortunately, this is not a problem with an electric grill. Another plus of this grill is that it heats up within minutes meaning I do not have to wait for any length of time before I can get the food on the grill. The food is always cooked exactly right as the grill is so powerful and the temperature gauge means that I can ensure the correct temperature at all times.
The grill is easy to clean and can be stored away quite easily. It is a perfect size as I do not have a large back garden. I have had this grill for almost two years and have not had one problem with it and I use it quite a lot during the summer months (at least three times per week!).
Americana Electric Cart Grill with Rotisserie
This sleek stylish outdoor electric grill is a superb buy for all of you who want effortless cooking outdoors. It is a perfect addition to any patio, terrace or deck and provides a great way to cook food to perfection without any hassle. The Meco grill comes complete with a rotisserie and has three element positions including a vertical one. It is from top quality materials which will ensure it lasts you for many years.
There is a 200 sq in the cooking area with a viewing window so that you can have a look at how the food is cooking while keeping the lid closed. It is easy to store away with the foldable side tables. These tables are very convenient when cooking as you can place plates and utensils here so they are within easy reach. It also has a shelf underneath the grill for storing items too.
The electric grill comes with thermostatic controls so that you can adjust the heat according to the type of food you are cooking. It looks great and will provide you with a fabulous grill that will be perfect for entertaining outdoors.
Review from one satisfied customer
I bought this grill last year and have used it about a dozen times so I don't know if that qualifies me to review it yet or not. But I have cooked a host of different foods on it. We had a big barbecue last year for about thirty people and I was cooking a huge variety of foodstuff on my grill.
I found that the grill was very easy to piece together when I got it but I always take out all the parts and mark them off before I begin. I do this with anything I have to assemble as it makes it easier. Anyway, everything was there so I got going. It is also obviously important that you make sure that you are putting all the pieces together properly.
I found the cooking space to be great and the food was evenly cooked and I was very happy with that. I never wanted the hassle of having to ensure that I always had enough propane gas. Plus my wife is a worrier and didn't want these gas canisters on the property. So as far as electric grills go, the Meco 9329W is a great buy. I am completely happy with it so far and expect it to last for many years and many more barbecues.
George Foreman GGR50B Indoor/Outdoor Electric Grill
As far as outdoor electric grills are concerned, this George Foreman electric barbeque is perfect for both outdoor and indoor use and it offers a great 240 in the cooking surface making it ideal for grilling a whole variety of foods including steaks, burgers, and vegetables. The unit has a George Tough non-stick coat that ensures the food never sticks, and the center of the cooking surface is slanted so that the fat drains away from the food into a large grease tray.
You can use this grill either on its stand or without while resting it on a flat surface such as a table or countertop. Other features of this wonderful grill include a temperature probe control that is adjustable, a nice sleek design, a high domed lid for use with general cooking and cool-touch handles. If you remove the probe, the grill is easily cleaned by immersing it in soapy water.
Product Features
Electric barbeque for indoor and outdoor use with 200 sq/in cooking surface
Adjustable temperature
Center channel for draining fat into a grease tray
Non-stick coat
Off or on stand used
Cool-touch handles
High-domed lid
Easy clean with probe removed
Measurements 22.2×20.5×13 inches
One-year limited warranty
Review from one satisfied customer
"Personally, I have read many reviews on this product. Lots of people mention that they purchased it as they live in an apartment and as they can't have an open fire grill or barbeque on their premises. Others mentioned that they bought the grill to be used solely outside but that it eventually never left their kitchen because they use it that much! To be honest, I thought that this was a ridiculous statement to make and was sure that this wouldn't be the case with me. Well, to my amazement the grill hasn't left my kitchen either! It is fantastic. The grill heats up really quickly and the food cooks really fast. Whatever food I do cook on it is really tasty. I have also cooked fish, pork and chicken on the grill, all with great results. The only small disadvantage I can think of with this product is the fact that its "non-stick" surface actually takes a little while to clean properly.
There is a grill for everybody's needs and every day. The weather is no longer a limitation. Just choose the right one for your needs or the one for your family's needs. Have a great time with friends, accompanied by some good food!