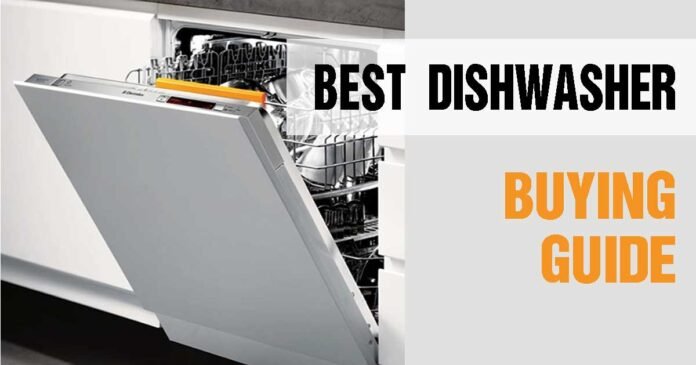 Best Dishwasher Buying Guide
A dishwasher could save you three weeks a year that you'd otherwise spend chained to the kitchen sink. The best ones use just two bowls of water and less than 10p-worth of electricity per wash.
The best dishwashers will get rid of hard-to-shift foods, such as porridge, egg, and spinach out of dishes and items of cutlery.
But that's not all. The measure consumption of water and electricity, as well as noise, are important and cheap dishwashers which are awkward and annoying to use should be avoided. This includes how easy it is to use the door, figure out the controls, load the dishwasher, and top up the detergent and rinse aid.
There are several types of dishwasher available online, with a fairly wide range of features.
Different sizes
Standard full-sized dishwashers are 60cm wide. Most hold 12 standard place settings and serving utensils (75 pieces of crockery and 52 pieces of cutlery). They're the ideal choice for a large family or if you entertain frequently.
Several manufacturers now have models that will fit in up to 15 place settings but they're the same size as standard dishwashers, so the crockery is jammed in closer and cleaning sometimes suffers.
If space in your kitchen is at a premium, there are two main types of smaller models.
At 45cm, slimline models are about a third narrower than standard ones and take between eight and ten place settings – plenty for a small household. They can be a little noisier than bigger dishwashers but usually clean just as well.
Compact, or table-top, dishwashers take four to six place settings, aren't much bigger than a microwave oven, and are designed to sit on a work surface or draining board. Only a couple of brands are widely available.
They're a good choice for those who live alone and for holiday homes. They can also be a good idea if you want to avoid bending down when loading the machine.
Built-in or semi-integrated models
Most dishwashers are freestanding. If you want one to coordinate with your kitchen cabinets, you can buy a built-in model (with concealed controls) or a semi-integrated one (where the control panel is visible).
Dishwashers' Program choices
Most dishwashers have a choice of different programs.
Economy programs
These are meant to save water or electricity, but many have much longer program times. Bear in mind that there's no standard definition of an 'economy' program and they can work in different ways. One dishwasher's standard program may be more economical than another dishwasher's economy program.
Delicate programs
These are to prevent damage to fine china or glassware. You can also help to avoid chipping by ensuring that china and glass items don't touch any other items.
Lower-temperature programs
These are intended to save electricity or for use with delicate items.
Half-load programs
These save only between 10 and 25 percent on water and energy – so they're much less efficient than waiting until you've got a full load.
Intensive programs
These are for very dirty loads.
Fuzzy logic
Some brands (including models from Bosch, Siemens, and Whirlpool) now use 'fuzzy logic' technology, more often seen in washing machines. This means the dishwasher has sensors to detect how dirty the water is and adjust the program accordingly. The fuzzy-logic program on a dishwasher is usually called something like 'automatic' or 'auto-program'.
The dishwashers with fuzzy logic generally give good clean dishes.
Indicator lights
Dishwashers need rinse aid, to speed drying and prevent water marks, and dishwasher salt, to soften hard water. Without them, you could risk damaging the machine. You don't need to use them each time you use the dishwasher. How much you use depends on several factors – such as how dirty your dishes are and how hard the water is in your area. So it's useful if the dishwasher has lights to warn you when the rinse aid or salt needs topping up.
Child-safety lock
Dishwashers use strong chemical detergents and very hot water, yet few models have child-safety locks to stop the door from being opened while the machine is cleaning.
Flexible racks and baskets
Not everyone has the same types of crockery and glassware, and not every dishwasher load is the same, so adjustable racks and baskets can make life easier.
The better models have adjustable or removable lower baskets and a height-adjustable upper basket. This means that you can fit large plates or saucepans in the lower basket, for example, at the expense of space in the upper one. Alternatively, you can fit tall glasses in the top basket, and have less space below.
Some models have tilting upper baskets, which make it easier to make the most of the available space.
Best Dishwasher Buying Guide – Types of control
Some dishwashers have hidden controls, which sit along the top edge of the door. These are concealed when the door is closed, giving a sleek and contemporary exterior. Front-facing control panels also come in different designs.
Buttons may be raised or flush to the surface, and some dishwashers have electronic touchpads. LCD displays showing details of the cycle are also common.
Some models will be unsuitable if you have sight or dexterity problems. Labels and buttons are sometimes small and cramped, making them hard to read and fiddly to operate.
Isn't it wasteful to use a dishwasher?
Not necessarily. According to a recent study into the dishwashing habits of European households, when used properly, dishwashers use less energy and water than washing by hand and can wash more effectively and hygienically.
What's the point in choosing a dishwasher so carefully? Aren't they all the same?
Not all machines will clean your dishes effectively. Cheap machines might leave flecks of dried-on food behind. There are also differences in how easy the machines are to use and how flexible they are to load.
What is fuzzy logic?
Fuzzy logic is a feature found on an increasingly wide variety of appliances. It basically means that the appliance can allow for different conditions in the way it works. In the case of a dishwasher, sensors detect how dirty the water is, and adjust the program accordingly. Most machines with fuzzy logic produce good results.
Is it ok to use three-in-one tablets?
Three-in-one tablets supposedly provide all the consumables a dishwasher needs — detergent, rinse aid (to prevent watermarks), and dishwasher salt (to soften hard water) — in one handy tablet. They dominate the dishwasher detergent market and many dishwashers now feature a special program for them.
Each machine's program works differently but, overall, cleaning is variable, drying takes longer and watermarks are unacceptably bad. This may be because the tablet's rinse aid dissolves in the main wash rather than during rinsing and drying when it's needed.
Undoubtedly, three-in-one tablets are convenient and there are few alternatives in the shops — so you may choose to use them with or without a special program. But make sure you choose tablets with all three ingredients. And check your dishwasher's instructions — some manufacturers state that their warranty will be invalidated if you use combined tablets. Use separate products for the best results — especially if you live in a hard water area, where using the correct amount of salt is key.
Conclusion
Dishwasher Buying Guide: We hope that this is a nice start for your research of the dishwasher that will do it for you. There are some websites that are well worth a visit, covering a whole range of dishwashers available online.
We recommend a few that you'll find on the right-hand side of this page. Look out for the bargains they propose. And hopefully, you'll find the dishwasher you're looking for online.
Good luck with your dishwasher online purchase!