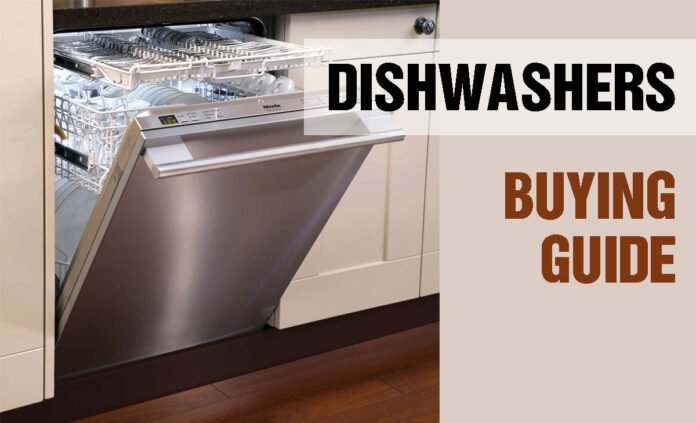 Appliances Dishwashers Buying Guide
Appliances dishwashers guide will help you find the best dishwasher. Are you ready to replace the old one?
With all of the different brands of appliances dishwashers and models available on the market today, how can you really decide which one is best for your household and needs?
The information below will guide you through just what you should be looking for.
Read on!
Appliances Dishwashers: Getting Started
When shopping for a dishwasher, you will quickly discover that you have hundreds of makes, models and types from which you can choose.
Before you make such an important investment, it is a good idea to do some background reading to learn about your options, and what the major dishwasher manufacturers offer.
The number of dishwasher models for sale is enough to boggle the mind! You have the choice of a wide variety of features and styles, with a range of dishwasher prices to match.
In thinking how to choose a dishwasher, there are a few different approaches you can take depending on the type of person you are… You can do a lot of detailed comparisons. Or with a few quick searches and clicks of a mouse, you can have a new dishwasher delivered to your door within days!
Sizing and Spaces
In any case, the first thing you want to determine is how much space you have.
Not every home has the room to store a dishwasher. If the size of your kitchen is an issue, it may be time to undertake a remodelling project. But before you do something that major and expensive, be sure to consider all types of kitchen dishwashers. You might be very surprised at the range of mini, portable and slimline models available. Some countertop models aren't much bigger than a microwave, and can be a great option as your first dishwasher.
We hope this part of our buying guide has given you a few ideas to get started. Remember, unless you're installing a new kitchen, the first thing you always need to do is measure the space you have for your dishwasher. This will determine the size you can purchase, and really helps to narrow down your choices.
Installing the Dishwasher
While room and size are important elements so is the installation of the dishwasher. Does it have easy access to water hoses and drains? Is the power outlet within reach of the area as well. These are very important, if the dishwasher cannot reach where it needs to, it is basically a bad investment. Now you get onto the fun part, the features. Yes, it is fun, because there are many different features available for dishwashers, all of which are designed to make your life easier.So, which features do you want in your best dishwasher? Which features do you need? Let us have a look…
Performance of Appliances Dishwashers
Performance is ultimately important, not only do you want your dishes clean, but you want them really clean. Some options that you may want to consider include cycles and sensors. Cycle selection is probably very important to you. The traditional dishwasher will have a minimum of three cycles, heavy, normal, and light. You might choose a dishwasher than has features such as pots and pans or even automatic sensor for optimal performance.
Other cycles might include:
Sanitary Wash
Delay Wash
Sanitary Rinse
Control Lock
Some of the best dishwashers feature a soil sensor. This will monitor the purity and cleanliness of the wash water.
This will ensure that the wash is not resoiled by dirty water. This is a great energy saver simply because it will make certain that your dishes are cleaned during the first cycle.
Temperature sensors may also be important. By having the temperature of the water at the right temperature, you will make sure that your dishes are receiving a sanitizing wash each time.The noise level is also very important. Some dishwashers are noisier than others. You can determine the noise levels of your dishwasher by looking at the sound decibels and determining how loud or quiet it might operate.
Dishwasher Flexibility and Capacity
It is important to get a dishwasher that works best for you and your household. Each household is different. You might have odd shaped dishes or have special demands. Your dishwasher should be able to answer these demands with complete ease.
Therefore, you want to look at many other aspect, other than just features. For instance, you want to look at the configuration and the size of the tub. You also want to focus on the flexibility allowed in loading.
To choose these features, you want to consider what dish type you generally wash in the dishwasher. You will definitely want to consider your larger or odd shaped items such as pots and pans, wine glasses, baby bottles, and so forth.
The best dishwasher must answer your needs with ease. Make sure that you choose a model that has a silverware holder that is functional, which means it will hold the silverware, instead of letting it through.
Dishwasher Energy Efficiency
The great thing about dishwashers and many other major appliances is that today they have become more efficient and saves energy than ever before.
Some models are more efficient than others, so it is important to compare models to determine how much you can save on money and energy. You can start by looking for the Energy Star icon. If a dishwasher is approved by Energy Star, it will save a minimum of 25% when it comes to energy than most other dishwashers.
Dishwasher Maintenance
Maintenance is very important. You want a dishwasher that is easy to maintain and will not break down easily. There are some dishwashers that make maintenance easy and a breeze.
You should look for appliances that offer disposers for hard food and filters. These are perfect for those who have to take care of really tough and soiled dishes.
Best dishwashers have features and cycles that are self cleaning. This might include a wash and scrub option to help minimize hard water. You also want to look for dispensers that you need to make your cleaning job much more efficient and sanitary.