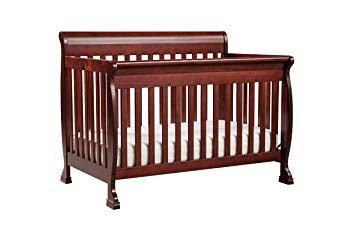 Best Baby Crib in 2023
DaVinci Kalani Convertible Baby Crib Review
This is a DaVinci crib at its best. DaVinci is famous for its engineering qualities and environmentally friendly values, and the Kalani is no different. DaVinci Kalani Convertible Baby Crib is made from the best New Zealand Pine Wood, harvested from sustainable forest. It has a non-toxic finish so that all your worries about poisonous paints can be put to rest. Another great thing with the company credo is that they shipped the product using energy-efficient ways.
With the Da Vinci Kalani Baby Crib, you have your entire baby's bedding needs in one place. With some simple moves, you can convert the crib into a baby's bed complete with a head and footboard. Or it can even be converted into a daybed. The metal support can be adjusted to support 4 levels of mattresses so so that you can adjust the size of the crib according to how your baby grows. Assembly and disassembly of the crib is also a breeze. A toddler's rail is included in the packing.
DaVinci Kalani Convertible Baby Crib Features and Specifications
Features 4 level mattress spring system to adjust to your child's growth
Toddler rail included, assembly instructions included
Made of New Zealand Pine wood from sustainable forests
JPMA certified, meets and exceeds Federal Safety Regulations
Converts to a full-size bed with m4799 rails sold separately
Product Dimensions : 42"H x 35"W x 54.4"D
Weight: 56.5 pounds
Average Customer Review 4.5 out of 5
DaVinci Kalani Convertible Baby Crib User Reviews
Most customers are pretty happy with the DaVinci Kalani Convertible crib. A lot of praise has come in for the 4 adjustable heights that the Kalani offers as most other cribs only provide 3 levels. The easy setup has also been mentioned as one of the main selling points. Often parents buy the most expensive cribs only to find out that they cannot manage to install it themselves and have to spend more money on outside help. With the DaVinci Kalani Convertible Baby Crib, even a grandpa can do it in minutes, without any heavy lifting or tools.
Besides that, the Kalani is supremely durable and can last for years, so if you are planning to have more than one child, it would be a good investment. Moreover, since it can be converted into a full-size bed, you don't need to purchase another for your child when he outgrows the crib. The accessories that come with it like the toddler rail are also worth a mentioned since if you are going to buy it separately, it would probably set you back another few hundred dollars.
Lastly, with the many colors and finishes that the Kalani range provides, you can be sure that this DaVinci Kalani Convertible Baby Crib will not look out of place in the nursery or with whatever existing furniture you currently have in your house.
Best Selling Stock Craft Tuscany 4-in-1 Stages Crib Review
When you are purchasing a baby crib for your precious little one, you want to choose only the best for your baby. The Stock Craft Tuscany 4-in-1 Stage Crib is one of the best choices you can make for a baby's crib. It exceeds your expectations in terms of safety, comfort, usability, and style. As with all products from the Stock Craft company, Tuscany is certified to all domestic as well as international standards of quality and safety.
The Tuscany Stage Crib is a convertible crib that can be used as a standard crib as well as a toddler crib, day bed, or full-size bed, hence the 4-in-1 nature of the set. It is made from solid wood and the finishing is in non-toxic JPMA certified Espresso. The set comes with a truncated drawer for storage of the baby's items and toys. Additional accessories and conversion kits are available separately.
Stock Craft Tuscany 4-in-1 Stages Crib Features and Specifications
The magical design makes this Tuscany crib perfect for your baby's sweet, delicate slumber
The attached trundle drawer complements the Tuscany crib's magical design and provides ample storage for your baby's possessions
A versatile choice; converting from a standard crib to a toddler bed to a daybed to a full-size bed
Easy to assemble with permanently attached instructions
Made of attractive solid wood and wood products, finished in a variety of eye-catching colors
Product Dimension: 54.2 (H) x 33 (W) x 43 (D) inches
Weight: 80 pounds.
The average Customer Review for this Baby Crib is 5 out of 5
StockCraft Tuscany 4-in-1 Stages Crib Customer Reviews
Most parents who have purchased this Stock Craft Tuscany 4-in-1 Stage Crib have similar reviews that convey their feelings about this set. Most if not all are pleasantly surprised at the quality and comfort that the crib provides. One of the observations of this set is that it is wider than most other models out there. Although this makes it slightly heavier than the rest, it is definitely more comfortable for your baby especially if your child is big for his age.
The other observation is that the crib is extremely sturdy. It looks rock solid and seems like nothing can shake it. It is certainly one of the most stable cribs you can find in the market. The sturdiness is a blessing for some parents whose children are light sleepers and awaken at the slightest shake of the crib. Despite being a bulky item, the installation of the crib is not an issue raised by the parents. In fact, most think that it is easy to set up.
The dark espresso color has also been commended by parents. Most of them like the color as it is really beautiful and fits well with most colors you can find in a baby's room or nursery. However, there are some complaints that the dark color makes any scratches more visible but I guess all baby furniture is bound to get scratch marks on it anyway.